Leeds & Liverpool Canal Walking Guide
The Leeds & Liverpool Canal is perfect for walkers. For city strolls or rural rambles the towpath is the place.
Where to walk?
The canal offers short, medium and long distance walks. It has great variety, from inner cities to the Yorkshire Dales. There are a few books with planned walks (see here) or you can plan your own on google maps or try one of my favourite walks. I have made a few walking guides, they are on pdf files so you can download them and print them out.
Start
Finish
Miles
Type
Download
Burscough
Appley Bridge
6 miles
Linear
Gargrave
Gargrave
8 miles
Circular
Liverpool
Old Hall Street
Albert Dock
2 miles
Circular-ish
How far to walk?
I have put together a Leeds Liverpool Canal Mile Chart so you can work out how far it is from place to place. The distances are in miles and hopefully I have got them right! Everyone walks different speeds and distances so choose a distance to suit you.


the mile matrix
Getting From A to B
One of the things that makes the Leeds & Liverpool Canal perfect for walking is its links to the rest of transport network. The canal was built on the shortest route possible between Liverpool and Leeds and the cotton towns in between. When the railways and motorways were built they followed the same route. This means it is easy to access the canal from the motorways and main roads or from stations along the way. For long stretches of canal its possible to walk the towpath between stations.
By Train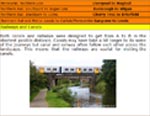 The canal is easily reached by train for much of its 127.25 miles. There are intercity stations at each end. Click the link to the left to find out where the stations are along the canal and how to reach them from the towpath.
If I am doing a linear walk I usually park my car, then take the train to the far end of the route and walk back. This means any problems with trains not running are dealt with at the start and not at the end of a long walk. It avoids you being stranded at a closed station.
Always check in advance that the trains are running, especially at weekends and Sundays in particular.
By Car
There are lots of places to park along the canal. There are car parks beside the canal itself or at railway stations. There is on street parking too. I am putting together a google map of the places I have parked and a POI file for Garmin sat navs to help you find them.
By Bus
I have no idea about buses! Sorry!
The Towpath
The towpaths on the Leeds & Liverpool Canal range from newly laid tarmaced cycle-paths to muddy puddles. There are on going projects to improve the condition of the towpath and increase its use.

The towpath is generally flat with some slopes at locks. Canal walking is not moutaineering!

Access to the towpath at bridges is usually via steps, though some have access ramps, in other places you can just walk onto the towpath. If you have problems with stairs check the access to the towpath.

Some of the gates designed to stop motorbkes and cars might make access for wheelchairs difficult if not impossible. These are mostly at the western end of the canal.
Clothes and Equipment
Trekking should be enjoyable and nothing stops you having a good time like sore feet. Make sure your shoes are comfortable.

You dont need much for a canal walk, but with Britains changeable weather an extra fleece and a waterproof are a good idea.

A packed lunch or snack and a drink are nice.
Safety
Take care around the edge of the canal

Take extra care around locks and swing bridges.

Remember that some bits of canal pass through isolated bits of inner cities, be aware of who is around you. Towpaths have attracted the less desirable sections of society since they were built.
Added Value
While walking is fun in itself its easy to add some extra interest to a walk. Here are some ideas:
Canal Guide Take a Nicholsons guide with you to find out the names of the bridges and locks.
Wild Flowers Take a pocket sized field guide and identify the wildflowers on the towpath
Old Maps Take along an old Ordnance Survey Map from 50, 100 or 150 years ago. They often give the names of the mills and factories and will explain many relics of the past.
Photography Bridges, reflections, ducks etc all make good photographs