The City of Liverpool
A Visitors Guide to the Pool of Life
"Liverpoole is one of the wonders of Britain... In a word, there is no town in England, London excepted, that can equal [it] for the fineness of the streets, and the beauty of the buildings." Daniel Defoe
In 2009 the new canal was opened at the Pierhead in Liverpool. The new canal links the Leeds & Liverpool Canal and the North Docks with the South Docks. This means boaters can come right into the heart of the city without braving the River Mersey.
So with more people coming to Liverpool and boats at long last coming down the canal what is there for people to see and do in the Pool of Life?
Things to do in Liverpool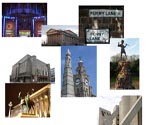 Liverpool has plenty of art galleries (Blue Coats, the Walker, the Tate) and museums (The World Museum, Maritime Museum, World Slavery Museum). The city has two cathedrals, both are well worth visiting.
For links and idea of things to do in Liverpool click here
Liverpool Pub Guide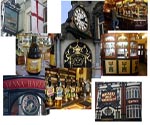 Liverpool has a lot of pubs. It has large Edwardian palaces, small local pubs, pubs with good food, pubs with good beer, pubs with fine architecture and plenty of bog standard chain pubs. Liverpool has some of the best real ale pubs in the country. It is also home to the annual Liverpool Beer Festival pick a pub
Walks Around Liverpool
In 2004, Liverpool Maritime Mercantile City was inscribed as a UNESCO World Heritage Site.  It has over 2,400 Listed Buildings and has the UK's largest number of listed buildings outside of London. From the famous 3 Graces and the city's two impressive cathedrals to the 1950's council house where Paul McCartney and John Lennon wrote songs together.
Books
The Pool of Life: A public health walk in Liverpool by Morris and Ashton, 2007

Pevsner Architectural Guides Liverpool by Joseph Sharples, 2004