About Me
My family have kept boats on the Leeds & Liverpool Canal since the 1950's. When I was born in the 1970's my parents had a wooden cruiser "Albatross" which was a Dunkirk veteran. We then had a Norman 25 GRP cruiser, also called "Albatross". We kept Albatross at the moorings by Heatons Bridge in Scarisbrick. I spent most Sundays at the boat either going for a sail up the canal or playing with the chickens that were kept by the moorings. I found a lot of broken pottery which would have come from the "manure" or "night soil" once unloaded from barges on to the wharf. The World War Two tower by the pub was always interesting to a boy who had lots of plastic soldiers. Back then children had to stay outside the pub and eat peanuts or crisps, it was a while before I saw the inside of Heatons Bridge Inn.
We went on holiday on the boat. Along with my grandparents on their ex-hireboat Laura Knight, we went to the IWA rallies at Wigan, Castlefield, Northwich and Birmingham. Being in a GRP cruiser we were always stuck at the back, out of sight, but being stuck on a building site and needing gang planks was all the more exciting. The best thing about rallies was the free stickers and other goodie bags.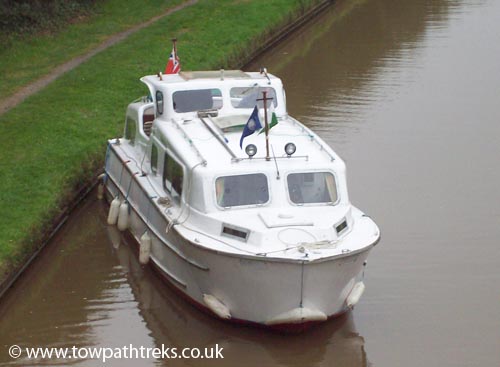 After suffering regular break-ins at Scarisbrick we moved the boat to the Shropshire Union and it is still there at Nantwich. The Shropshire Union gives far more scope for travelling the system and is especially handy for the Llangollen Canal.
Inbetween doing my B.Sc. (Hons) and MSc degrees at the University of Liverpool I worked on the charity trip-boat the Pride of Sefton. We took groups, mostly from carehomes, out for a day on the canal. It was great fun to sail a 60ft barge five days a week, and I got paid for it! We did day trips from Haskayne to either the junction with the Rufford Branch or the other way to the wnding hole in Melling or Maghull. The Pride of Sefton has crews of unemployed people and it was interesting to see how differently they reacted to a life on the Cut.
I now work in the library at the University of Liverpool so have access to literally millions of books and journals. This means even the slightest interest or fad can be well researched. Although I was born and bred in Southport, I now live in Liverpool. Liverpool is a great city for anyone who appreciates history and culture.
Following the death of my father we have now sold our boat and for the first time in decades my family have no boats on the canals.
When I die I would like my consciousness to be implanted into a robot which will endlessly patrol the Leeds & Liverpool Canal.